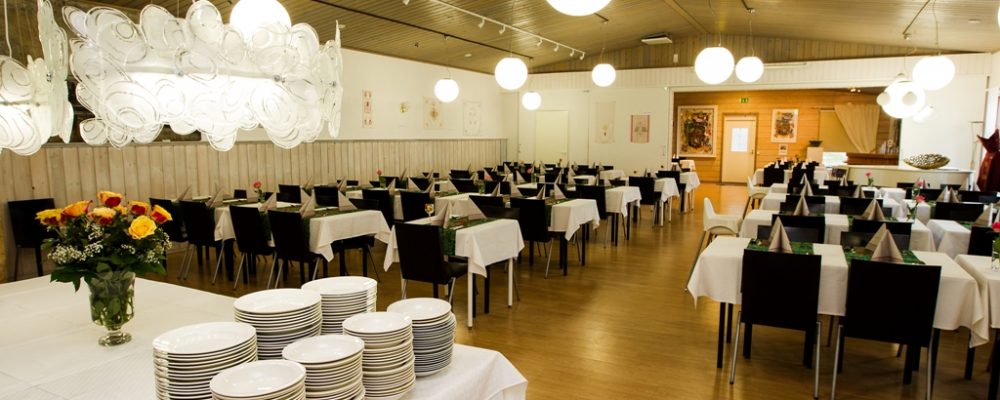 Dining rooms
Pavilion
The Pavilion is a private restaurant. There is enough space for 150 persons (max. 175 persons). The chairs are ergonomic Finnish design with high back and comfortable to sit. The tables can be placed according your wishes. There is a grand piano, a bar, dance floor and lot of various art.
The back of the pavilion can be closed off with a soundproof sliding door. In front of the pavilion there is a terrace and a wide grass field.
Read here the Pavilion's menu >>

Lounge in the sauna building by the lake side
This meeting room is situated in the old, historic building and there is a magnificent fire place. There is nicely space for 28 persons (max. 45 persons). By the lake side with a beautiful view to the nature this place suits fine for intimate events and for dining, too. The chef prepares the food in the restaurant kitchen and brings it on the warm hobs which makes it flexible to start the dinner.
There is right to serve alcohol also in this premise.
Read the sauna menu here >>

Shelter by an open fire
The shelter has 20 sitting places and three different open fire cooking places. The chef finishes the cooking by the fire and that's very interesting to follow!  You may also participate the cooking in the chef's leadership – a splendid program for the wellbeing day! The shelter belongs to the alcohol area, too.
Look proposals for the shelter menu >>

Other dining places
The breakfast room in the hotel offers place for max. 8 diners. The quayside by the lake is a special milieu to toast a drink or for a cocktail event – it has even witnessed a wedding!
Send a request >>