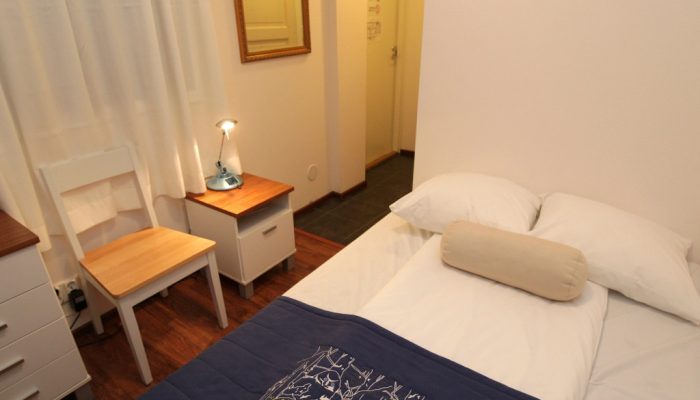 Standard room
There are 6 standard rooms, in one room the bed is 140 cm wide in the others there are two separate beds which are 80 cm wide.
Supplies: WC, shower, hair dryer, flat-screen TV.  Air conditioning, the room temperature can be adjusted.  Furniture Finnish design and pieces of unique art in every room.  On the beds artistic designed bedspreads and on the walls art paintings.
Read more about the art >>
Room rate and reservations
The room price varies according to the season and the availability.  Please, check the current price from the hotel or through the booking system
The room should be booked and payed in beforehand. The price includes breakfast and sauna bath in the morning.  Lunch and dinner can be ordered in beforehand for groups and in special occasions also for individual travelers. We have a private restaurant with alcohol rights.
Arrival and surroundings
Check in time between 13 and 18, checkout before 11 a.m. if not agreed otherwise. Later check in is possible but must be informed in advance.
The hotel is situated 23 km from the center of Tampere or from the Tampere Exhibition and Sports Centre Pirkkahalli and around 19 km from Hämeenkyrö village. The distance to the neighbor town Ylöjärvi is 11 km.
Urkin Piilopirtti is situated in a beautiful nature by a lake. Close by you find excellent terrain for outdoor activities and sports. The highly considered Maisematie – the old route with its fascinating views goes by the side making curves when heading to the national scenery in Hämeenkyrö. In the surrounding an individual traveler can find a lot to see >>
Cancellation policy
When the cancellation takes place latest 24 h before the booked check in (before 13 p.m.) can the reservation be changed to some other time. When the cancellation takes place later, the price will not be returned. Reservations made by Booking.com must be changed/ cancelled by Booking.com.