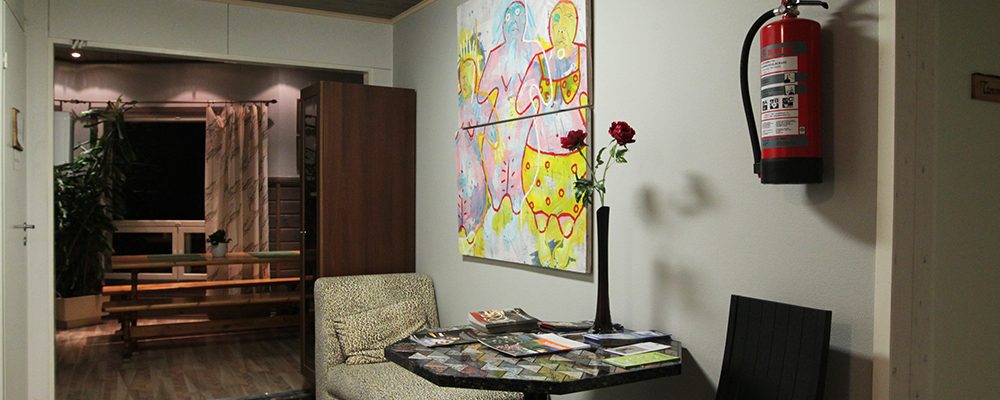 ACCOMMODATION
Urkin Piilopirtti has got its name according Finland's former President Urho Kaleva Kekkonen who used to visit the place often.  At the same time the premises belonged to the Sport Union/Association Tampereen Pyrintö and the place was its training and camping site.  Urho Kekkonen's good friend Kalle Kaihari was at that time the chairman in Pyrintö.
The premises have been renovated during 2007 – 2012 and the hotel was completely renewed in 2009.
Urkin Piilopirtti is nowadays a recognized Art Hotel. Art is present in every room.  Also on the yard and in close surroundings you find lot of works of Art. The Art Exhibition renews every year.
Have a look to the works >> in beforehand!
Rooms
Urkin Piilopirtti is open the whole year round.  There are 14 accommodation rooms and 2 apartments in the hotel.  You'll find rooms in three category:
standard: 1 x single, 5 x double standard
business: 6 x double
business suite: 2 x double
2 x apartment
One room is equipped for disabled people. There is also two rooms for people travelling with pets. The whole hotel is no-smoking area but outdoors you may smoke and in some rooms there is a door direct to the yard.
Apartments >>
Room rate and reservations
The room price varies according to the season and the availability. Please, check the current price through the booking system or ask more from the hotel:
The room should be booked and payed in beforehand. You can pay also with card. The reservation is valid after receiving the confirmation. The price includes breakfast and sauna bath in the morning. Lunch and dinner can be ordered in beforehand for groups and in special occasions also for individual travelers. We have a private restaurant with alcohol rights.
Arrival and surroundings
Check in time between 13 and 18, checkout before 11 a.m. if not agreed otherwise. Later check in is possible but must be informed in advance.
The hotel is situated 23 km from the center of Tampere or from the Tampere Exhibition and Sports Centre Pirkkahalli and around 19 km from Hämeenkyrö village. The distance to the neighbor town Ylöjärvi is 11 km.
Urkin Piilopirtti is situated in a beautiful nature by a lake. Close by you find excellent terrain for outdoor activities and sports. The highly considered Maisematie – the old route with its fascinating views goes by the side making curves when heading to the national scenery in Hämeenkyrö. In the surrounding an individual traveler can find a lot to see >>
Cancellation policy
When the cancellation takes place latest 24 h before the booked check in (before 13 p.m.) can the reservation be changed to some other time. When the cancellation takes place later, the price will not be returned. Reservations made by Booking.com must be changed/ cancelled by Booking.com.